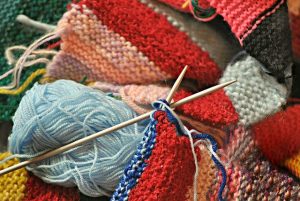 In another first for us in 2021, we will be holding a Stitch 'n' Bitch on Thursday, 18 February, at 7.30 pm, in one of the rooms of Xanadu Online Theatre.  For those who haven't heard the term before, a Stitch 'n' Bitch is when people get together to work on their various projects while having a natter and a bit of craic at the same time.
The Xanadu Stitch 'n' Bitch will be hosted by Aoife Flood, a highly experience knitter, who will be on-hand to answer any questions and offer help; beginners are welcome.  You don't have to be knitting though: you can crochet, embroider, sew, or do any other craftwork you may have underway.
The event will be co-hosted by Notes From Xanadu Artistic Director Mary Tynan.  If you wish to attend, please register by emailing notesfromxanadu@hotmail.com.  See you there!