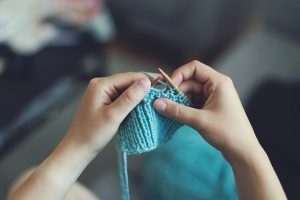 Our next Stitch 'n' Bitch takes place on Thursday, 20 May, at 6.30 pm BST, in one of the rooms of Xanadu Online Theatre.  For those who haven't heard the term before, a Stitch 'n' Bitch is when people get together to work on their various projects while having a natter and a bit of craic at the same time.
The Xanadu Stitch 'n' Bitch is hosted by Aoife Flood, a highly experience knitter, who will be on-hand to answer any questions and offer help; beginners are welcome.  You don't have to be knitting though: you can crochet, embroider, sew, or do any other craftwork you may have underway.
The event is co-hosted by Notes From Xanadu Artistic Director Mary Tynan.  If you wish to attend, please register by emailing notesfromxanadu@hotmail.com.  See you there!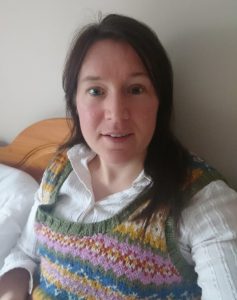 About our host: Aoife Flood's knitting journey began on a trip to New Zealand in 2007, when she came across a book of designer knitting patterns while browsing in a shop. She decided that, if she wanted to have these designer clothes, the best way was to knit them herself. So that was it; she got the bug and has been hooked ever since. Aoife will sharing some of her wonderful work with us in a gallery exhibition in the coming weeks.  She is wearing one of her own pieces in the photo.