Following on from previous columns, where I had a bit of a moan about lockdown, I've decided to focus on change and being positive about change.  I'll also alter my style a bit for this series.  Slightly more serious – but only slightly.
We've all had to change – whether we like it or not, whether we wanted to or not – over the last while.  Change is difficult.  Alongside the change, I've personally gone through varying cycles of emotion that range from utter despair and anger to acceptance and joy.  I have had to maintain being mindful throughout, as the negativity can take over quite quickly.
One of the tools I've used as part of my mindfulness practice is the 'Wheel of Life'.  What is the Wheel of Life?  The Wheel of Life is a tool that is widely used in coaching circles, to simply benchmark where we're at against where we'd like to be in certain areas of our life.  I use it as a personal accountability and development tool.  It keeps me on track, and from wandering down rabbit holes where I can get lost for days or months at a time.  You can adapt the concept to suit yourself and your own needs.
Before we get into the practicalities, some history first.  Some like to say the original, original concept came to us through Buddhism, however, the original concept originated with Paul J Meyer, the founder of the Success Motivation (R) Institute in the 1960s.
The original wheel, with six slices of the pie, looked like this: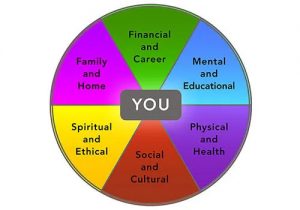 You'll note the sections were labelled:
Financial and Career
Mental and Educational
Physical and Health
Social and Cultural
Spiritual and Ethical
Family and Home
The more modern Wheel of Life is usually subdivided into 8 sections.  These are, commonly:
Business and Career
Finance
Health
Family and Friends
Romance
Personal Development
Fun and Recreation
Contribution to Society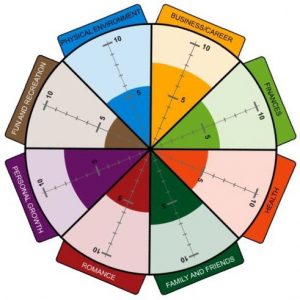 My wheel of life is very similar, except I would have 'Physical Environment' in place of 'Contribution to Society.'  This doesn't make me a cretin who isn't interested in society.  My contribution to society runs as a natural thread throughout my interactions with society; I don't feel the need to actively measure this or set goals for it.  However, my physical environment is very important to me for various different reasons, so I prefer to measure this.
If you want to focus in on one area and break it down into other sections, the Wheel of Life can be used that way too. Some people use it to assess themselves in each of the roles they play in life, such as partner, manager, parent, sports coach, teacher, etc.  Try and keep your set consistent when designing it.
The Wheel of Life is used in two styles: pie and spider web. When we use the pie style, we draw a line to mark how far up the slice we are, whereas with the spider web wheel, we can plot points on the slices as if it is a graph.  Both result in the same messaging, though.  Personally, I use the pie style, keeping it simple.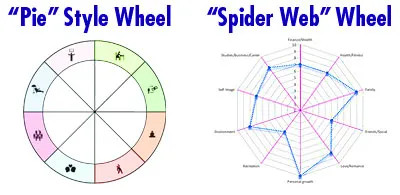 In the next part of the series, I'll look at how to get started: identifying what an aspirational 10/10 is for us in each of the categories of the Wheel of Life, and how we benchmark where we're at now.  I look forward to sharing more with you in the next column: showing you how I use it in a very practical way, from longer term goal setting that then translates into small, daily actions that I take to reach said goals.  Through this, you'll get a glimpse of how I managed to maintain a semblance of sanity during lockdown, even though our lives were turned upside down.
As a small teaser, you might want to try this online assessment: https://wheeloflife.noomii.com/
Philipa Farley