Notes From Xanadu is delighted to announce that a new server for Xanadu Online Theatre has been sponsored by County Cork company ProPrivacy.  The server will enable us to customise the code for the theatre (we use open source software, in keeping with the philosophy of the arts centre), leading to a smoother and more exciting experience for both audience and performers.
ProPrivacy is a close-knit, family run data protection and cyber security compliance company based in Ireland. The company works with clientele in many sectors ranging in size, from small businesses to privacy departments in large multinational corporations.  It's lead auditor and GDPR consultant is Philipa Jane Farley; if you think you recognise that name, you would be right – multi-talented Philipa has been writing the Farley's Philosophy column for us since the arts centre's launch in May 2020.  The ProPrivacy team have this to say about the sponsorship:
"2020 has been exhausting. More for some than others, but needless to say, everyone's lives have changed in one way or another, some for the worst and some for the best. Unfortunately, COVID-19 has taken a toll on our entertainment community. It has affected our livelihoods, hobbies and the community around us.
While we may feel that we cannot control events on our own doorstep, let alone, globally, new and fresh ideas on how to charge through and grapple with such unknown times have emerged. New online businesses, video chats and social outreaches over the internet have been the new trends of the pandemic. New ways to connect with people have become a priority in a world where social distancing is now second nature.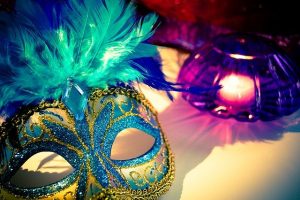 This is where Notes from Xanadu has blossomed. Emerging from what was formerly an online magazine with Arts reviews and periodic COVID-19 articles, Notes from Xanadu transformed into a lively and active social page where artists from all walks of life could come together to continue doing what they do best even with the entertainment industry in complete shutdown.
Mary Tynan, who suffers from Myalgic Encephalomyelitis, has overcome extreme personal challenges and advocates to raise awareness of this neurological condition. Mary has taken back her life in a global lockdown and created this forum for her fellow artists to have an opportunity for creativity and to take the stage once again in a transformative way over the internet. And Mary has even dusted off her old coding skills, and learnt new ones, allowing her to customise Notes from Xanadu to her high standards.

As a data protection company fortunate to be able to continue working through lockdown, ProPrivacy got to thinking about how we would be able to make a difference in this industry for which we have a great love. As we have seen the Arts take an enormous knock in this pandemic, Notes from Xanadu came to mind. ProPrivacy took this opportunity to support Mary and her endeavours to grow her platform in a small but hopefully significant way by sponsoring a server for her online theatre. ProPrivacy will continue to supply data protection and cyber security support for Mary to continue running her Arts centre with peace of mind. ProPrivacy feels incredibly privileged to be able to support a woman whose values align with that of our own, inclusive communities sharing resources to enrich those around them."
The new theatre software is going to be built by Philipa and Mary working together, and we will, of course, share news of the development as it happens.  We live in exciting times for online arts and Notes From Xanadu and Xanadu Online Theatre will continue to do our utmost to stay at the cutting edge of the field.  If you are interested in working with us on a volunteer basis in any capacity, please drop us a line at notesfromxanadu@hotmail.com.
As of 2021, ProPrivacy are expanding their services to support small businesses through their offshoot, The Career Designer. This new line of services and digital products is informed by the company's primary focus, data protection, privacy, and cyber security, and deals with the inner workings of starting up a business with an online first focus from scratch.
The Career Designer is to be launched within the next few months for people who want to make their ideas pay. It's about helping people and transforming their skillset into a business, especially for those during this pandemic who are out of work or are struggling to make an income. Philipa and team want to share their many years of business experience and niche skills in an easy to understand way which can help people turn their ideas into stable and thriving businesses. They will walk you step-by-step through the process of building a business from start to finish, accounting to marketing and all the legal requirements in-between. Macro-knowledge for microbusinesses if you will, catering for business construction as well as business maintenance.
If you are interested in The Career Designer or other services offered by ProPrivacy, please visit their website, or email the team at info@proprivacy.ie.