The most socially awkward thing I've ever done.  So awkward I'm not going to * anything.
Have a baby in 2020.
But first, please enjoy the preceding few weeks' hilarity in my meme and photo folder.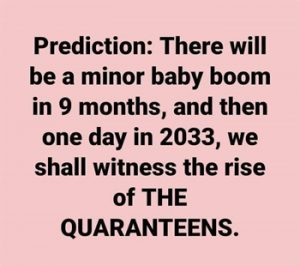 It was really awkward.  Not least because of how it happened.  One-time-only bad decision making, if you know what I mean, after a few glasses of Irish-cream-what-what from Aldi.  I mean, can we be more classy?  I'm thoroughly embarrassed as I type this and remember myself saying something like: "it's the end of the world, who cares anyway?"  (April '20).  In any case, one fine day sitting at the computer, the nausea hit me from my toes up.  My first thought was, no.  Just no.  No way.  And then himself got sent straight to the pharmacy.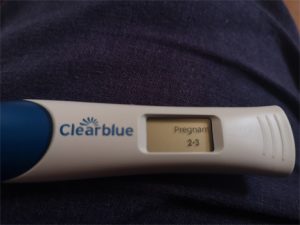 Back to the awkwardness.  For a while, it just looked like the Covid Stone.  Then it started looking like a real baby.  I was stuck at home, as we all were.  Going literally nowhere except to hospital appointments by myself.  Time went on and it was just too late to say anything on all the work video calls.  I mean, what do you do?  Stand up and show off your belly in an 'accidental' side shot?  Yawn and stretch?  Or do you interrupt proceedings with an "excuse me I have some news?"  While debating these various different and equally awkward scenarios, so much time passed that it was nearly time to have the actual baby.  And then he arrived early.  So then the message had to very quickly turn into "hey, I'm off here now for a bit of personal time, but not for too long.  No, I don't have Covid.  BRB"-type messages.  AFK for a few days.
I had my baby on the 29 November, by section, in CUMH.  It was a Sunday night – change of shift time.  It was really scary and very unpleasant, with  Graeme (my husband) waiting outside in the car park for hours and nobody knowing what was going on.  I was admitted to the Emergency and was in for about five hours, in labour, on a narrow bed, not able to reach my phone.  By the time I got somebody to pass it to me, I was pretty much being dressed for theatre.  We thought I'd go in, be calmed down, and sent away again.  Not that simple.  Graeme was allowed in basically as they were cutting me open – after they had to repeat the spinal block that didn't work the first time.  Just a really unpleasant evening.  He had to leave when they wheeled me out of recovery.  He hadn't been able to attend a single doctor's appointment with me.
Ruairí came out shouting the odds though and was pretty okay.  This was the biggest relief for me at that moment.  We had a difficult pregnancy, him and I.  Besides it being incredibly awkward, I was diagnosed with gestational diabetes.  From start to end, the ball was dropped by the doctors and midwives involved in that regard.  If not for our GP and the village pharmacy, I don't know if we would have come out okay.  That, and all the delicious healthy snacks Graeme made.  Endless snacking.  Snacking till the food is up your throat with the nausea.
To this day, I'm waiting for the South Infirmary to phone me back to get my sugar readings from about 6 months ago.  And yes, assholes, I left multiple messages on your various answering machines.  Can you tell I got sick and tired of injecting myself with insulin?  I have the biggest respect for anybody who lives with diabetes.  I did a needle count one day, rough estimation:  I had to prick my finger seven times a day in order to test sugars and inject insulin twice a day.  I will be avoiding the follow-up fasting glucose test for a while, possibly until the trauma subsides.
When I went into labour, they gave me medication for high blood pressure, as that was playing up too.  They explained at the time, but, honestly, I wasn't listening to anything or seeing very much.  I met so many people there that Graeme remembers; don't ask me who they are though!  That medication did something, and Ruairí's sugars crashed at 48 hours.  He landed up in the neonatal unit with a sugar level of 1.9.  This was at 10pm at night.
After I had been told that afternoon that he had a murmur in his heart, I had to tell Graeme in a text message.  I couldn't voice note or call because the other children were listening in.  Then I had to message, from the deserted basement passage of CUMH in the middle of the night, while our baby was being revived.  He got through that.  The murmur disappeared.  And then he was jaundiced.  So jaundiced he went back into the neonatal unit for a few days and sessions under the lamps.  We had been able to take him home for one night only at that point.  I had to go back to the emergency for very high blood pressure.  Sitting, alone, again, on a tiny bed, my milk came in leaking all over.  I pumped.  He drank.  We got through it.  He was allowed home when he was one week old.
I don't think anything gets more awkward than this experience.
All that trauma with nowhere for it to go, in the middle of all the trauma of our lives every day these days.  At times, the awkwardness is really funny.  But, at other times, I cry.
When we need the hugs and the chat the most, they're not there anymore.  We need to fix this.  Be kind to the people around you.  Ask how they're doing.  Make space for people to tell their stories.  We're all going through something, and we need each other.  Let's take turns having a bad day and allowing ourselves and others to have a bad day.  We're nearly there.  Let's not leave anybody behind.