Contemporary Printmaking: From Andy Warhol to the Emerging Generation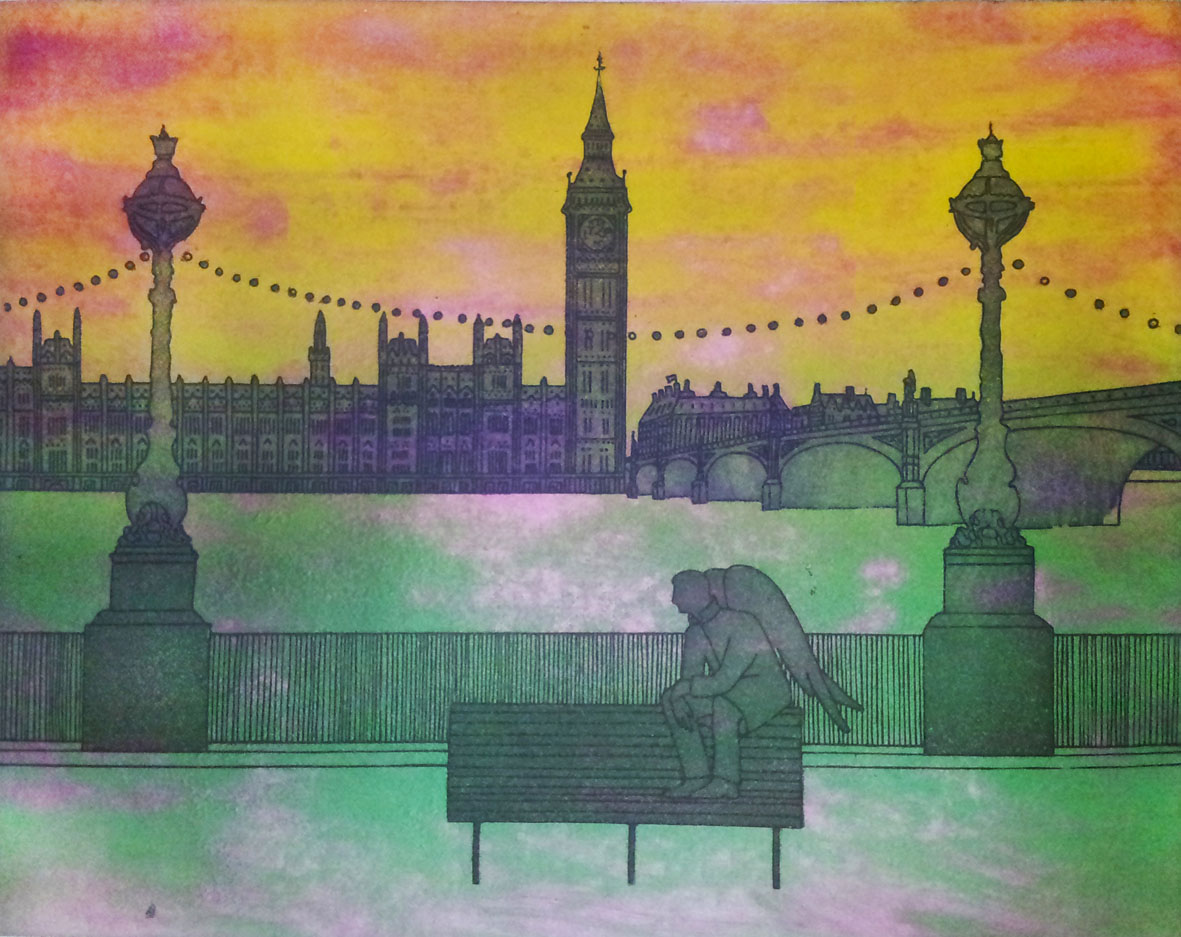 This exhibition by Orion Contemporary combines household names with Orion's young, emerging stable of artists to promote printmaking as an art form and celebrate the importance of the medium.  To quote Andrés Olow Clase, director of Orion Contemporary: 'From Andy Warhol's exceptional print of 1974 to works made in 2012, the show explores the diverse vivacity and technical skill of printmaking.'  Following the inaugural exhibition in 2011, this year's offering includes a variety of work by Lisa Denyer, Alexander Gough, Damien Hirst, David Hockney, Max Lowry, Dénes Maróti, Will Martyr, Andy Warhol and Giulia Zaniol.
I am not going to talk about the big names here; nobody needs me to tell them about the likes of Hockney or Hirst.  Instead, I would like to focus on some of the less well-known artists.
Alex Gough's woodblock prints of Levi Mountain are influenced by his Finnish ancestry and are imbued with strong tonal contrasts, reflecting the twilight dancing on the snow, or the midnight hue as the mid-winter landscape melts into long dark nights.  Lisa Denyer's 'Range' continues the mountain theme and uses a mystical combination of silver and black to engage the eye.  William Martyr's art deco 'Sweet Spot' and ''Time Well Spent' employs bright, vibrant colours to excite the viewer's imagination.  Dénes Maróti pleasantly surprised me by his range: I was startled to discover that the bold, powerful images of repetitive figures were drawn by the same hand as the delicate flower prints.  Finally, Giulia Zaniol's 'Angels of London' series uses a highly advanced two-plate technique of soft and hard ground, litho colours and spitbite to create images with deep and varied tonal harmony.  The combination of colours and images manages to be both haunting and calming at the same time.  Although chromatically I think the finest of the three pieces is 'Parliament Angels,' the image of the solitary seraph stood staring across the Thames at the distant 'Tower Bridge' will remain with me for some time.
Comtemporary Printmaking opens today at Store Street Gallery.  On the evening of 14th March, Gabriel Angel Moreno, will be reading a selection of his poetry written in response to the works in the exhibition, and Giulia Zaniol will lead an informal talk on the art of printmaking on Saturday 17th March at 4pm.
Contemporary Printmaking is at Store Street Gallery, 32 Store Street, WC1E 7BS.  Opening Times: 13th March – 17th March, 11am-6pm. 18th March, 11am-4pm.  Admission Free.
Mary Tynan