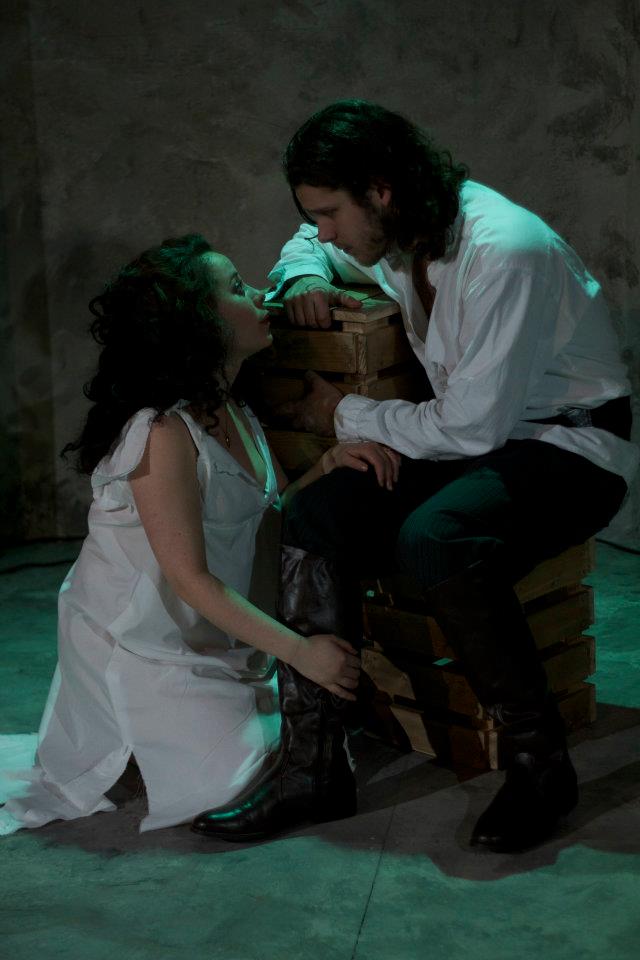 Lost in the Dark presents Ondine by Jean Giraudoux
When I was a child, I used to make up plays.  They would often involve princesses, love stories and magical powers.  Ondine is exactly the type of play that child would have loved: the embodiment of the sense of wonder that draws us to drama in the first place.  To bring this off in a small fringe venue like the White Bear is no small achievement.  But bring it off to a very high standard is precisely what Lost in the Dark have done.
Ondine is the story of a supernatural creature who falls in love with a mortal man. When Hans and Ondine meet, the worlds of a mortal man and a magical creature of the water dangerously collide and she is forced to make an inexorable pact, which will change both their lives forever. Should he betray her, he must die and, along with her time on earth, be erased completely from her memory for her to return to the world of the lake forever.
The first thing to strike me when I entered was the set.  Auguste (Michael Eden) and Eugenie (Terry Diab) were already seated, she knitting, he reading, in a fisherman's cottage, complete with daub walls and a working window.  The small oil lamps were a particularly nice touch.  Haunting music played from offstage.  The first act takes place in this kitchen, with Hans (Andrew Venning) and Ondine (Elizabeth Merrick) completing the cast for this part of the story.  The second set takes place in the Royal Palace, where Richard Hurst, Brice Stratford, Rob Leonard, Phoebe Batteson Brown, David Frias Robles, Marian Elizabeth and Hilary Hodsman make their debuts.  The final act takes place on a rock by the sea, where the story comes to its tragic, but inevitable end.
There were no bum notes in this production, although a personal preference would be for the actors not to turn their back on the audience quite so much, but apart from that they dealt with the small space admirably.  Everyone involved did a fantastic job: however, there are some who deserve a special mention.  Firstly, set designer Zanna Mercer has created three excellent environments for the play, which are spectacular by the standards of black-box theatre.  Andrew Venning grabbed my attention from the moment he came on stage, and continued to captivate the audience throughout, with his expressive, heartfelt delivery and physical presence.  Elizabeth Merrick was superb as Ondine, her opera training showing to advantage in her movement, her vocal range, and her portrayal of wide-eyed wonder, tragedy and love.  The final scene between Ondine and Hans was particularly poignant, with both actors showing marvellous emotional depth.  Marian Elizabeth gave a lovely, credible performance as Bertha, particulary in one scene, where I almost believed she had a live bird in her hand.  She played the part with charm and grace.  I would have liked to see more of Phoebe Batteson Brown (Voilante/Kitchen Maid).  She drew my eyes whenever she was on stage and although her parts were small, they gave indications of a much larger potential.  Finally, a play is only as good as its director, and Cat Robey must take a large amount of credit for this magical piece of theatre.
Ondine is running at the White Bear Theatre, London, SE11 4DJ, 28th February – 18th March 2012, Tues-Sat 7:30pm, Sun 6pm.  For more information, visit www.ondine-lost-in-the-dark.com.
Mary Tynan