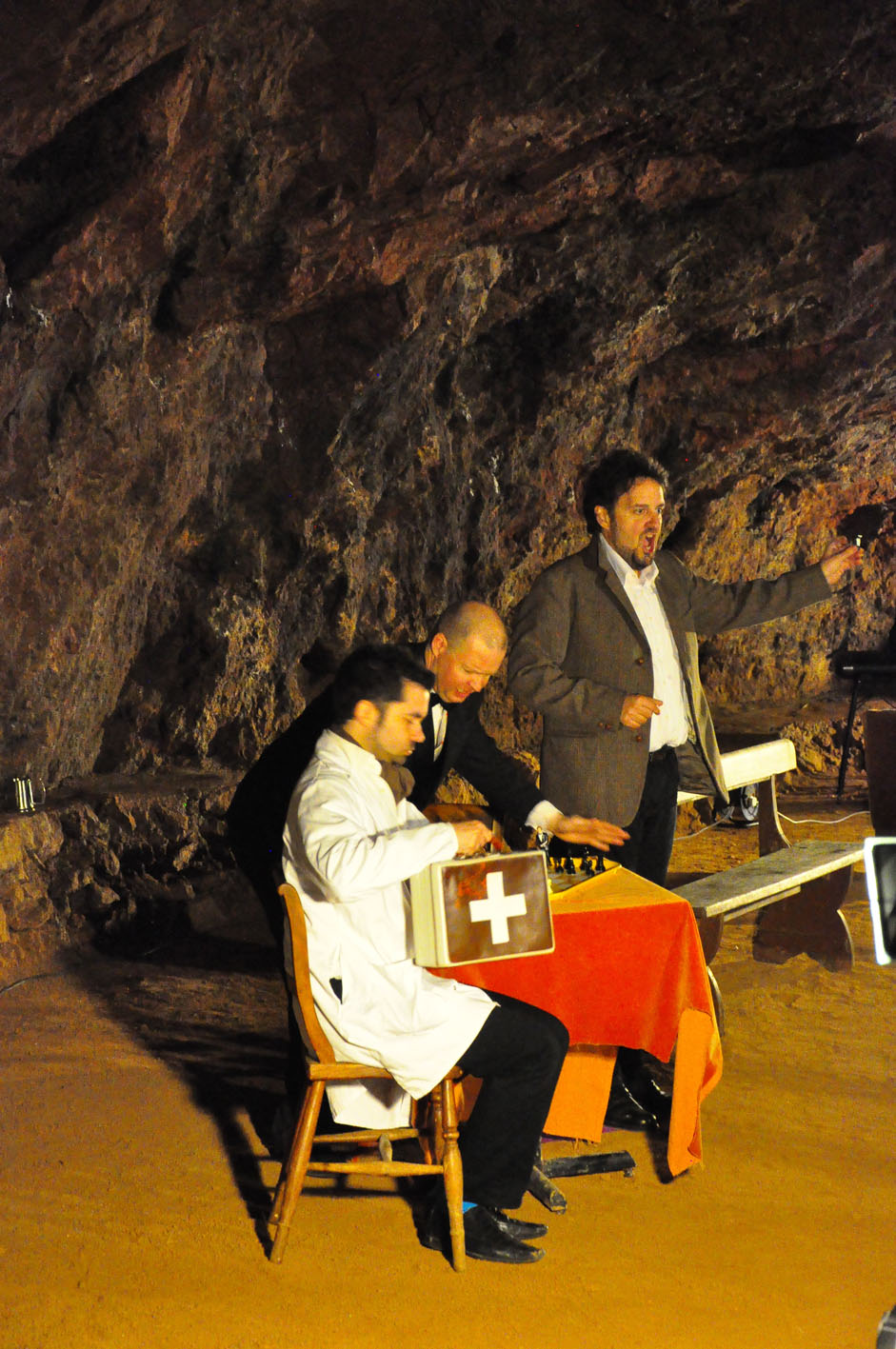 Popup Opera Present Don Pasquale at The Brunel Museum, Rotherhithe
If I were the vindictive type, I'd use this review to get revenge for being shot in the eye with a water pistol!  But I'm not and I won't.  Instead I will say that Popup Opera gave their usual superb performance: something I have come to expect after attending only one of their previous shows.
The company have become adept at adapting to different spaces and maximising the advantages of each situation.  The tunnel shaft at the Brunel Museum is completely unlike the small room in a private club where I watched L'elisir D'amore. Reached by crawling through a hole and climbing down a scaffold, this cathedral-like space with its marvellous acoustics allowed the cast to give full reign to their vocal talents.  Raúl Baglietto gave a solid professional vocal performance as Don Pasquale, and, as the main character, did a wonderful job of holding the show together.  Visually, he portrayed the Don's emotions in a very realistic manner, despite the overall comic feel of the piece.  Cliff Zammit Stevens' (Ernesto) tenor was once again piercingly sweet, and his exuberance as the young man in love was able to be expressed fully in this much larger space.  Ricardo Panela's performance was even more powerful than in L'elisir D'amore, and, as the doctor whose machinations basically create the story, he was both lively and amusing.  Clementine Lovell (Norina) also used the bigger space to put her physical comedy skills to good use, and as the only woman she stole the show vocally.  Her exquisite soprano seemed to soar to the top of tunnel and encircle the audience, like a nightingale's song suddenly appearing out of the stillness.
The cast utilised the whole of the space to implement their silent-movie comedia style, which was very effective and greatly enhanced by Harry Percival's slick and witty captions.  This focus on the physical comedy allowed Director Darren Royston to take a much larger role in the proceedings, playing several roles, all hilarious.  We even got to hear him sing as the Notary, albeit only a couple of notes at a time.
I will leave the final words to another audience member who was attending her first ever opera:  "I thought I was going to like it, but I absolutely loved it.  I want to go again soon.  It was amazing!"
You can catch Don Pasquale as it pops up at various venues throughout May, or see the company in their summer tour of Rita/La Serva Padrona.  For more information visit popupopera.co.uk.
Mary Tynan