She Loves Me at the Landor Theatre
I didn't notice that Saturday was Valentine's day when I arranged to go and review She Loves Me on that day. Once I realised, I wondered if I would look a bit strange going to a romantic musical on my own on the day for celebrating the pairing instinct! I needn't have worried. There were a lot of couples (and quite a bit of hand-holding), but there were also people who had come because they had friends in the cast, so I didn't stick out like a spare thumb.
Seated at the end of the front row I had a good chance to look at the set (courtesy of designer David Shields and Lighting Designer Richard Lambert) before the performance began. It was wonderful! She Loves Me is based on a play called Parfumerie (by Hungarian author Miklos Laszlo) and most of the action is set in a cosmetics shop. The set was well-designed: bright, cheerful and colourful; as well as being easily adaptable to the requirements of different scenes.
I did have one major gripe about this show, which nagged at me right up until partway through the second half, when I suppose I got used to it. The play is set in Budapest and is being performed in a London theatre. So why is everyone speaking in an American accent? Yes, I know the musical was first produced on Broadway, but that seems insufficient reason to me. And although the accents were, on the whole, excellent, they did slip on the vocal numbers in some cases. Looking at the cast list, I can see that one cast member is from the US and another from Canada. Let them speak in their native accents, and let the rest of the predominantly British cast speak in their own accents. Were an accent change indicated, the only logically choice would be Hungarian, and I don't believe that would be either practicable or effective.
Accents aside, I really liked She Loves Me. The fourteen-strong cast gave flawless performances with high energy throughout. The songs were exuberant and infectious, and the choreography was of a very high standard – essential when you have such a large cast in such a small space. Credit is due to director Robert McWhir, musical director Iain Vince-Gatt, and choreographer Robbie O'Reilly. The cast were ably support by a trio of musicians whom I can't seem to find listed in the program and Nina Morley's costume design and Cecily Rabey's stage management contributed to the excellent overall look and feel of the piece.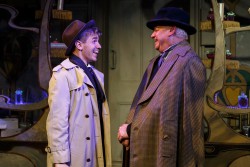 With such a large cast, all of such a high standard, it is hard to pick anyone out for special mention. Lead actors Charlotte Jaconelli and John Sandberg were wonderful, both vocally and in terms of creating believable sympathetic characters. The same could be said Emily Lynne, David Herzog and Matthew Wellman – although without the sympathetic part in his case, as he was playing the villain! I was particularly drawn to Joshua LeClar as the bicycle messenger Arpad and Ian Dring as Mr Maraczek, the elderly shop owner. All of the singing in the show was brilliant, and I particularly enjoyed the chorus numbers (George Mulryan, Rosie Ladkin, Tom Whalley, Olivia Holland Rose, Luke Kelly, Anne Horn and Suzie Chaytow). At 2 ½ hours the show is good value for money, and I can guarantee you will leave with a smile on your face.
She Loves me is at the Landor Theatre until 7 March 2015, Tuesday – Saturday nightly at 7.30pm, with matinees on Saturday and Sunday at 3pm. For more information, visit www.landortheatre.co.uk.