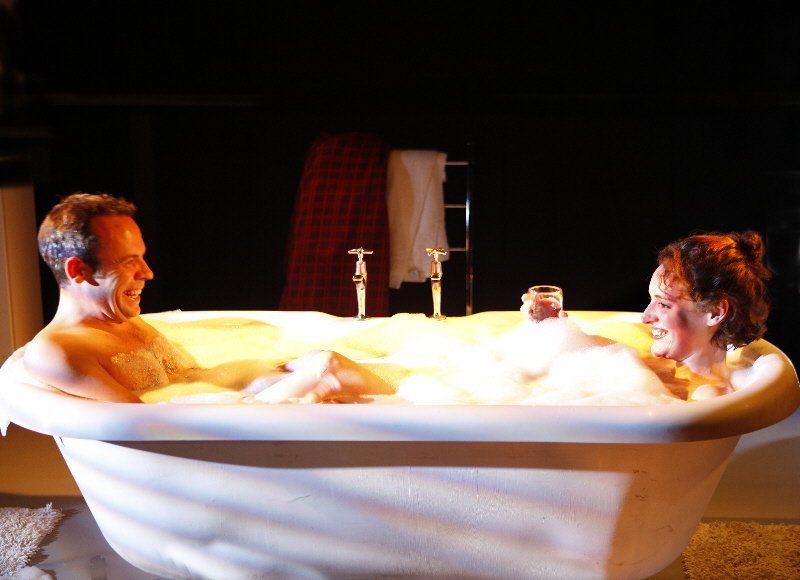 Mydidae was written as the result of a dare:  Writer Jack Thorne was challenged by DryWrite Theatre Company to write a play about a man and a woman set in their shared domestic bathroom.  The artistic directors wished to explore themes of privacy and intimacy, and the bathroom is an ideal device, bringing to mind somewhat Willy Russell's use of ladies' and gents' toilets in Stags and Hens.
The play feels rather like a painting, in that a lot of the detail needs to be inferred by the audience.  Marian and David have obviously been living together long enough to have had a child, but still seem to know relatively little about each other on a deeper level.  The couple talk incessantly, but never, it appears, about what they really care about.  What seems like light-hearted banter to begin with quickly reveals underlying tensions.  These build to a climactic head during the shared bath, which is where the intimacy theme is explored, but in an inconclusive manner.  The ending raises more questions than it answers, and overall we are left with far more insight into David's feelings than Marian's, even though, ironically, it is she who does most of the talking.
Both Phoebe Waller-Bridge (Marian) and Keir Charles (David) were believably quirky and portrayed the complicated relationship very well.  Phoebe allowed the subtext to come through in a genuine way below the banter, and Kier played David's sometimes inarticulate frustration in a credible manner.  He also used physical humour to good effect in the earlier part of the play.
The set was simple but effective and fitted well in the space.  The bath creates a natural division for the characters to play around, and the use of the part of the fourth wall as a bathroom mirror was very convincing.  Director Vicky Jones played the comedy card to good use in the early scenes, as well as building tension nicely, although some of the pauses could have been cut slightly while still retaining the aura of uneasiness.  The lighting was simple but impressive.
On the whole, the experiment definitely paid off, although one feels that there is a lot more to be told of David and Marian's story.  Audiences prepared to use their imagination will be rewarded for the shared effort.
Photograph courtesy of Simon Annand.  Mydidae is at Trafalgar Studios until 30 March at 7.45pm nightly, with 3pm matinees on Thursdays and Saturdays.  For more information visit www.atgtickets.com or www.drywrite.com.
Mary Tynan and Emma-Lee Adams